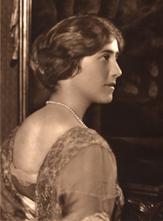 Mary Harriman
Founder of Junior Leagues
History
The Eau Claire Service League was formed on March 19, 1930 as a coordinated volunteer effort after a tornado devastated Eau Claire. The League was organized at the home of Mrs. Duncan Frick who then served as its first president. Mrs. Frick moved to Eau Claire from Duluth, MN, which has one of the oldest Junior Leagues in the country. The Eau Claire Service League grew in size from its original thirteen charter members as new members were asked to join through a sponsorship and voting process. Members were active for seven years before becoming associate members. Over the years, the active service of a member was lowered to six years and again later to five years.
On February 5, 1991 the Eau Claire Service League voted to affiliate with the Association of Junior Leagues International and adopted the following mission: To promote voluntarism, to develop the potential of women, and to improve the community through the effective action and leadership of trained volunteers. Its purpose is exclusively educational and charitable. After completing a two-year training and educational process, the Eau Claire Service League became the Junior League of Eau Claire. Membership is open to all women who are called to serve and are committed to the mission. New members are known as provisionals and participate in a provisional project. After the first year, provisionals become active members and choose a placement. Members are encouraged to be active for at least four years. Sustaining members are members who have completed their active service and elect to continue their affiliation with and support of the League. Active sustaining members have completed their active serve requirements and choose to retain their voting privileges.
Through the foresight of Mrs. Duncan Frick and the dedication of its many volunteers, the Junior League of Eau Claire continues to develop, facilitate, and support a wide variety of projects and fundraisers that serve women and children at risk in the Eau Claire area.
| | | |
| --- | --- | --- |
| Back to School Project | Keep Infant Seated Safely (KISS) | Salvation Army |
| Barrier Free Playground | Literacy Volunteers of America | Senior Citizens Boutique |
| Bolton Refuge House | LVA | Service to the Military |
| Chippewa Valley Museum | March of Dimes Drive | Service to the Orthopedic School |
| Clothing Donations | Mobile Meals | TB Bus |
| Community Table | Nurse Baby Clinic (visits) | United Cerebral Palsy |
| Eau Claire Regional Arts Council | Orthopedic School Library | Vision Screening for Preschoolers |
| Guidance Clinic (painted) | Polio Vaccine Shots | Warm the Children |
| Headstart | Professional Women's Clothing Bank | WAVE recruiting |
| Hospital Library | Red Cross Bloodmobile | YMCA Skateboard Park |
| Interfaith Hospitality Network | Safe Place for Newborns | |

Current and Past Fundraisers of
The Service League of Eau Claire and The Junior League of Eau Claire
| | |
| --- | --- |
| | |
| | |
| | Home for the Holidays (Christmas Home Tour) |
| | |
| | |
| | |
| | Sinterklaas |
---

For more information about joining Junior League of Eau Claire,
please contact us.